Breaking News: Vice President Mike Pence nih US Election Hi A Dongh Rih Tunglo Tiah A Phuan..
US Vice President Mike Pence nih Tutan US Election hi a Dong Rih nenmam lo a ti Cang. US Vice President Mike Pence nih cun tutan US election 2020 hi a dih rih nemmam lo tiah a phuan. Media tampi nih a dih cang Joe Biden hi US President thar a voi 46 nak US President a si an ti lio ah Trump le a team pawl cu lungdongh an itim lo. Thazaang chuah chin chin an itim cang. Democrat pawl belte an thin a phang ziar cang.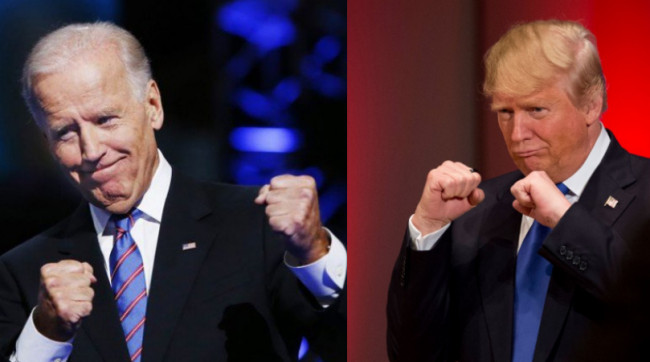 Mike Pence hi US Vice President Trump a dirpitu le Khrihfa tha tak tak a si. Mi tampi nih Trump nak hmanh in US President hi tuan selaw tiah an dirpimi pa a si. Tutan US election kong ah Mike Pence a van holh ve tak tak cang. Tutan ah Mike Pence zong a um sawh sawh kho ti lo. Hi ti bak hin a langhter cang. Mike Pence nih a timi cu ' Daldohnak hi hi a dong rih nemmam lo' lungdong loin kan doh peng lai' ti bak in a chim cang.
US President Donald Trump zong nih tutan election hi a dih rih lo tiah a chim i lungdong loin a cawlcang cuahmah lio.  Trump sihni bak a simi Rudy Giuliani zong nih  tutan ithimnak ah ning cang lo tuk i cawlcanghnak ruangah hmun 10 hrawng ah tazacuainak tuah a si lai tiah a chim chap. Zei ko dah cang lai zoh peng hna usih. Source: Daily Mail  
Relchih: Kum 2020 US election thimnak ah teinak acotu Pu Joe Biden hi mipi nih an duhlo lung in  achiatnak le a tthatlonak an kawl cio. Hihi an rak duhlo ruangah a sikho cun a mah a bonlo le tthatlo taktak ruang zongah a sikho vemi asi. Asinain tukum election ah hin a dik ning tein a tei le diklo a tei timi tu theihkhawh mithawng avun um rihlo.
A bik in Trump asungh bak in mipi nih huat le remlo aa huah. A siding zong cu a va si ve ko, a nih Biden hi zeidang nak in US mipi ngandamnak lei ah biatak tein thazaang pek aa timmi a si. A tu zongah mipi sin alung ummi bia a vun chim Joe Biden nih "I won't be president until January 20th, but my message today to everyone is this: wear a mask" tiah a facebook capar ah a chim.
Hi capar nih alanghter micu Joe nih hin mipi ngandamnak ah biatak tein zohkhenh le I kirven hi asi. Cun a chimmi ah keimah President ka si asi ahcun corona virus hi ka hloh dih cikcek lai tiin mipi sin achim fawn. Cu a bia nih mipi thinlung zong tamlak te a thlen hna. Cu caah tukum thimnak ah Trump mee pe tawntu hna tamlak nih Joe Biden mee an pek tiah kan theih fawn. Ref: Joe Biden